Is G Suite is Right for Your Nonprofit?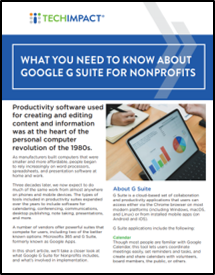 Selecting the right cloud solution can help nonprofits cut costs and improve collaboration. As your nonprofit researches the various cloud solutions, this article provides a closer look at what Google G Suite for Nonprofits includes, and what's involved in implementation.
Download this article to learn about G Suite:
Applications & Functionality
Administration
Versions and which is the best for your nonprofit
New applications
Fill out the form to download What You Need To Know About Google G Suite For Nonprofits.