Make SharePoint work for you.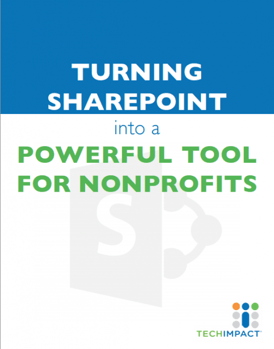 Microsoft's latest version of SharePoint is more than just a file sharing or collaboration tool. SharePoint is now hosted online as part of Microsoft's Office 365 suite. It is a powerful intranet that nonprofits use to centralize information. Packed with components such as file storage, records management, enterprise social networking, project management, and reporting tools, SharePoint is geared toward improving daily operational efficiency and bringing your organization closer together. And for nonprofits, it's free as a donation from Microsoft.
This whitepaper includes:
An interview with Tech Impact's Cloud-Data Consultant, Erin Rogers
SharePoint myths debunked
Features nonprofits love
Ways to ensure successful training and adoption
Tips for turning SharePoint into a powerful intranet
Fill out the form to the right to download the whitepaper.