DIGITAL FUNDRAISING IN 2021
$60
In this course, you will learn best practices for using social media, email, and additional communication tools to conduct digital fundraising for your nonprofit.
Through participation in this course, you will:
Learn the key elements of creating an online donation form.

Learn how to incorporate fundraising into your communications calendar.

Learn email and social media fundraising best practices.

Understand how to analyze and utilize metrics from your campaigns.

Discover software to support your fundraising efforts.
Session 1: Optimizing Your Website

Is your website capturing potential donors? Learn how to set up your website for success by including elements such as prominent "donate" buttons, tiered fundraising asks, and more.
Session 2: Social Media Fundraising
To complete your digital fundraising strategy, it's important to have your social media aligned with your efforts. Learn how to harness social media platforms to encourage fundraising, and how to incorporate your posts with your overall campaign.
Session 3: Email Fundraising
Email requests are common practice in fundraising campaigns, but how can you make sure they're reaching your audience? Learn best practices in crafting, targeting, and scheduling an email fundraising campaign.
This course will help:
Fundraising & Development staff

Social Media Managers

Executive Directors
Testimonials
"So much valuable information. So glad you send this webinar to us so I can see it again to digest all that was presented. Lots of tools presented that I was not aware of. Thank you."
"Quite informative. I will be working to 'optimize' our donation page."
"Loved the stats! It at least gives us a baseline. Many things I did know but you fine-tuned my knowledge of marketing into "email marketing" versus other channels I am more familiar with. I can build on my fundraising skills from other areas now into email marketing. Thank you."
About the Presenter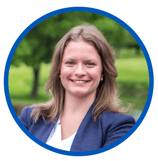 Kimberly Sanberg
Cairn Strategies
Kimberly Sanberg helps nonprofits to fundraise, engage supporters, build awareness, and achieve their goals with strategic digital marketing and communications, including social media, website strategy, advertising, and email.