Tools for Virtual & Hybrid Events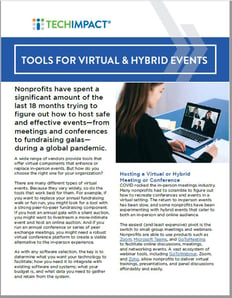 Nonprofits have spent a significant amount of the
last 18 months trying to figure out how to host safe and effective events—from meetings and conferences to fundraising galas—during a global pandemic.
How do you choose the right tool to offer virtual components that enhance or replace in-person events?
Download this free article to learn about:
Hosting a virtual or hybrid meeting or conference
Hosting virtual walks, fun runs, and tournaments
Hosting online auctions
Fill out the form to download Tools for Virtual and Hybrid Events.