Ditch Your Servers & Move Your Nonprofit Forward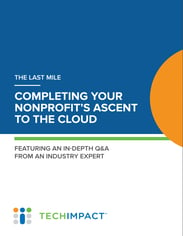 Your nonprofit has likely already moved one or more of its productivity tools (email, file sharing, donor/volunteer management) to cloud systems, but you haven't taken the final step – eliminating your servers.
Why not cut ties with the costly onsite infrastructure that is slowing your nonprofit down? Reach more donors and constituents, empower your staff, optimize your operations and do more for the community by completing your nonprofit's assent to the cloud.
Get expert insight on how to transform your organization by becoming completely cloud-based.
Complete the form to Download The Last Mile – Completing Your Nonprofit's Ascent to the Cloud.