Considering The Cloud?
Download the eBook to learn more....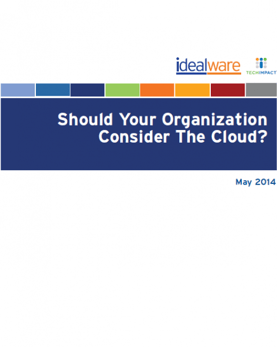 Software vendors are moving their traditionally installed products online, or in "The Cloud". Now, more nonprofits than ever are turning to cloud-based technologies that allow their organizations to run effectively and efficiently, while staying within budget. If you're new to understanding cloud-based solutions, you probably have plenty of questions and need answers to help you make the best decision for your organization.
This workbook will help you:
Assess how "Cloud Ready" your organization is.
Understand security in the cloud.
Assess your underylying infrastructure
Decide which software should live in the cloud
Budget for costs
Outline what features are important to you
Let us help you find answers. Fill out the form to the right to download "Should Your Organization Consider The Cloud?"