Year-End Nonprofit Fundraising Checklist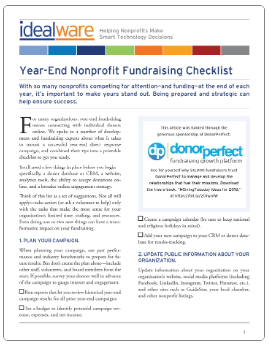 For many organizations, year-end fundraising means connecting with individual donors online. We spoke to a number of development and fundraising experts about what it takes
to mount a successful year-end direct response campaign, and combined their tips into a printable checklist to get you ready.
Think of this list as a set of suggestions. Not all will apply—take action only with the tasks that make the most sense for your organization's limited time, staffing, and resources. Even doing one or two new things can have a transformative impact on your fundraising. Thanks to the generosity of our sponsor, DonorPerfect, it's free to download. Just complete the form.