Will All Your Constituents Fit Into One System? An Idealware Workbook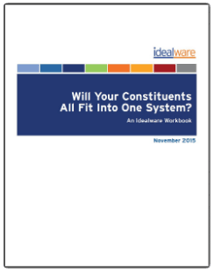 Over the past few years, many people in the nonprofit sector have adopted the Constituent Relationship Management (CRM) approach—the all-in-one database strategy pioneered by the corporate sector. The ability to easily see how all your constituents interact with your organization, and with each other, makes for an ideal vision.
But an all-in-one constituent database is not for everyone. If you need to keep tabs on multiple kinds of complex data, you're not likely to find a single system to fill all your needs. And if there's not much overlap between particular constituent groups, there may not be enough of an upside to a single database to make it worth your while.
We created this workbook to give you the framework you need to answer one primary question: Will all your constituents fit into one system? Thanks to our friends at Redpath and our other sponsors, it's free to download. Just register using the form on the right.