Recruiting Nonprofit Volunteers: The Landscape of Platforms and Services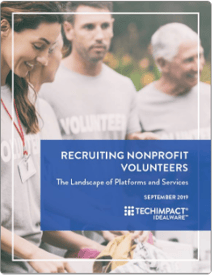 How can technology help recruit volunteers?
Millions of people across the country want to volunteer their time and energy to help nonprofits whose missions they support succeed. But finding, recruiting, and engaging them can be a challenge. How can technology help?
We spoke with professionals in the field—including consultants, software providers, and volunteer managers—and looked at a wide range of tech solutions you can use. It includes the expertise of consultants, software providers, volunteer managers, and nonprofit leaders, and looks at a wide range of technology solutions you can use to recruit people who want to give their time to your mission.
This concise report will show you how volunteer opportunities inform recruitment methods, what tools and services are available to organizations of varying sizes and budgets, and how they align with recruiting best practices.
Thanks to the generosity of our sponsors, EveryAction and DonorPerfect, it's free to download. Just complete the form.