Unleashing Innovation: Using Everyday Technology to Improve Your Nonprofit's Services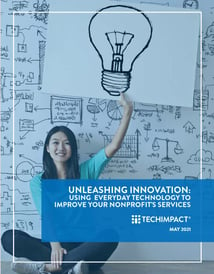 Most nonprofits know they should be innovating, but most also don't think themselves capable. What does it take to innovate successfully?
This report demystifies the concept. Using examples of nonprofits that have used technology innovations to better deliver on their missions, connect with constituents, and improve products and services, we provide a framework to help guide you through your own innovation project.
Learn what goes into a successful innovation and what can get in the way of one.
Discover how leaders can make room for innovation in their organizations' cultures.
Learn what role funding can play and how to find it.
Thanks to the generosity of our sponsors, this report is free to download.
Sponsored By: