Text Messaging for Nonprofit Program Delivery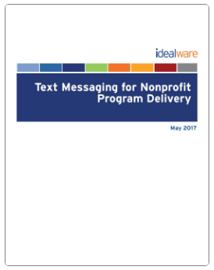 Is text messaging a good way for nonprofits to deliver programs and services? For some audiences, at least, text messaging is not just the best way to communicate and deliver timely information—it's the only way. Hundreds of millions of people without regular internet access use mobile phones to send and receive text messages, and many under-served populations move around a lot, don't own computers, and can only afford basic phone plans.
Download this report to learn the different uses and forms of text messaging to deliver programs and find out whether any of these are a good fit for your nonprofit. We'll explain how text messaging works, outline the most common ways nonprofits use texting for program delivery, walk you through many of the questions you should ask, summarize the technology available, share texting best practices, and feature detailed case studies of nonprofits that have implemented text messaging programs.
We also created a companion workbook, How Can Your Nonprofit Use Texting for Program Delivery?, to get you started. Thanks to the generosity of a foundation that wishes to remain anonymous, both are free. Just register using the form on the right to download the report.