The Landscape of Project Management Tools for Nonprofits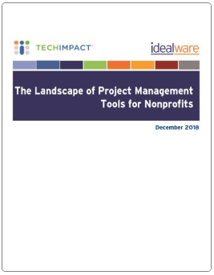 Project management is a discipline that includes both best practices and tools—some as simple as a paper checklist or spreadsheet, and some incredibly powerful and complex pieces of software that help plan, organize, collaborate, track, and share progress across multiple teams.
In this report, we look at the wide range of available software to understand what these systems are capable of, what they cost, and how effective they are for nonprofits. To put those results in context, we also define the management techniques that help make projects successful, the specific challenges nonprofits face in project management, and what organizations can do to improve their project management processes.
Thanks to the generosity of our sponsor, Community IT, the report is absolutely free to download. Just sign up below to get started.