A Practical Guide to Integrated Communications: A Workbook for Nonprofits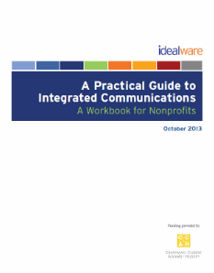 Between more traditional channels of communications like direct mail, email, and newsletters and all the new channels you've adopted, like social media, multimedia, and blogs, there's a lot to think about when it comes to your organization's messaging. How do you create and maintain a consistent voice across so many channels? How do you coordinate your various communications to work in tandem rather than competing, engaging constituents and inspiring them to take action rather than confusing, overwhelming, or annoying them?
Channels cannot thrive in a vacuum. Your constituents will think of them all as one voice—your nonprofit's—and so should you.
Idealware partnered with Chapman Cubine Adams + Hussey to create A Practical Guide to Integrated Communications: A Workbook for Nonprofits to help organizations like yours understand how to plan, schedule, and integrate communications into cohesive messaging around your campaigns and the equally important times between them. We also thank our friends at Russ Reid for their support of this workbook.
Designed around 18 worksheets, this free workbook identifies and defines the categories of communications, explores their roles in your messaging, and helps you assess your current state of effectiveness before walking you through the planning, scheduling, and implementation stages. Along the way, you'll learn to measure the response you're getting to adapt your techniques for better results, and ultimately learn to holistically integrate your communications.
The worksheets can be completed at your own pace and convenience. Whether you dive in alone or work with other stakeholders at your organization, by the time you finish you'll have a better understanding of the tactics and techniques for successful communications.
Need more help? We also included a directory of experienced consultants in which you can find the right firm to work with to implement this information.
Take the first step. Download the free workbook today.