What Nonprofits Can Learn By Collecting Survey Data

Nonprofits often run on a mix of experience, intuition, and persistence. But sometimes another perspective can provide the benefits or insights you need to improve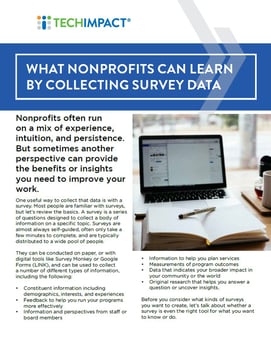 your work. One useful way to collect that data is with a survey.
In this article, we'll help you understand when a survey is the right tool for your needs.
From demographics to feedback to program measurement, we'll also help you understand what kind of data you can use surveys to collect.
This is a companion article to our free download, A Few Good Online Survey Tools for Nonprofits.