The Nonprofit Social Media Policy Workbook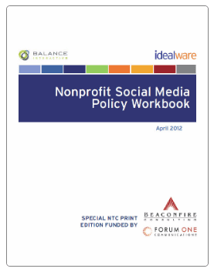 From Facebook to Twitter to LinkedIn, nonprofits are flocking to social media, but not everyone is prepared for the challenges and ramifications of what you post–or how to manage the process. Who is allowed to tweet? Who can comment on your posts? How do you respond if someone says something mean about your organization? How do you make use of what social media offers while protecting your nonprofit and your constituents?
As nonprofits have increasingly turned to social media, policies and guidelines to govern their use of social media have become the new frontier. The open and community-based aspects of social media can be a huge benefit for nonprofits looking to reach out to new audiences and engage their existing base, but sometimes it can seem that no one knows the right way to use each channel, or where the lines are drawn—or even how to find out.
It doesn't have to be that way.
A good social media policy will provide clear guidelines as to what staff should and shouldn't do when posting and interacting with the community on a day-to-day basis. Your organization can create a policy to help guide your whole staff simply by thinking about how you would like to make use of social media.
Written using the research from the Nonprofit Social Media Decision Guide, this workbook is designed to help you, as an organization, ask the important questions about social media, and take the next steps to growing a social culture.