Nonprofit Performance Management: Using Data to Measure and Improve Programs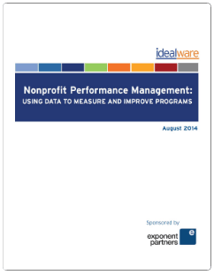 Tracking and measuring data can give nonprofits a better understanding of the populations they serve and how they serve them, and help them identify areas to improve their reach and the efficiency of their programs. But many nonprofits struggle to track data–or even to define what data they should be tracking.
As the nonprofit world adopts an increasingly data-driven model, the expectation is that more and more nonprofits will embrace the same approach. Will yours be ready? The better question is, what opportunities to improve your program activities and communications are you missing out on now?
Using data to improve your programs can pose a number of challenges.
Want to learn how to move your organization toward a model of data-driven decision-making? Register using the form on the right to download the report–it's free, thanks to our friends at Exponent Partners and our other funders.