Do You Need a New Website? An Idealware Workbook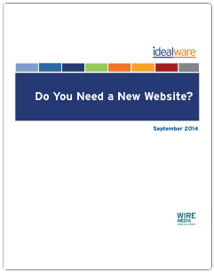 When people who need your nonprofit's programs look for information about them on the web, will they find the information they need—and will it be compelling and clear enough for them to reach out? When potential donors visit your website, what will they find? Will it inspire confidence or impress them enough to write a check? Your website is often the first impression you make. Beyond initial contact, it's a central place for current and potential clients, donors, funders, and volunteers to learn more about you and your mission, the population you serve, the programs and services you provide, and the myriad ways for them to get involved with your organization. Maybe you can get away with a few minor updates to the content and design of your existing site. Maybe you need a more-thorough overhaul—or maybe it's time to start from scratch with an entirely new site. We designed this workbook to help you decide.
Thanks to our sponsors, Wire Media and Balance Interactive, and to NetSuite—which contributed funding for a number of Idealware workbooks, including this one—it's free to download. Just sign up using the form.