Legal Aid Technology Toolkits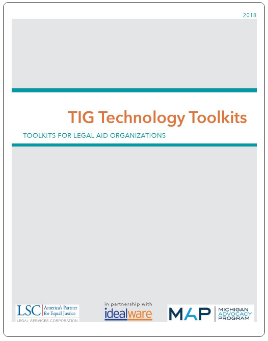 Is your legal aid organization making the best use of technology?
As technology becomes an increasingly critical part of how we work, organizational leaders are actively seeking ways to learn more about the software and best practices that can make their programs more effective and help them meet or exceed the LSC Technology Baselines. But with so many different technologies and solutions available, how do you know what's useful, what's affordable, and what's practical?
To help you find the answers, Idealware partnered with the Michigan Advocacy Program to publish four Technology Toolkits. Each breaks a complex topic of specific interest to the legal aid community down into easy-to-understand, actionable pieces. Funded by an LSC Technology Initiatives Grant, the toolkits are free to download.
Good intentions or a commitment to your organization's mission won't protect your data—for that, you need infrastructure, processes, policies, and training that establishes an organizational culture that prioritizes security and empowers all staff to protect important data.
A look at the tools and best practices that enable your organization to store and archive your work—including emails, meeting notes, documents, and more—so that it can be searched and retrieved using a variety of keywords and methods. Memorializing the insights behind your work ensures that strategic successes can be reused and improved upon.
Either standalone or in tandem, these online tools can automate intake and triage so your staff can help more people find the services they need by screening them for your programs, referring them to the appropriate agencies, or providing the right resources. They also make it possible to provide immediate help to people who are not able to travel or when offices or phone lines are closed.
Telephones—including text messaging, email, and chat—are a common means for people to seek help, and hotlines are a common way legal services provide that help. The right technologies can make sure your organization provides advice, referrals, and services clients need efficiently and in line with your existing procedures for intake and confidentiality.