The Landscape of Salesforce Apps 2018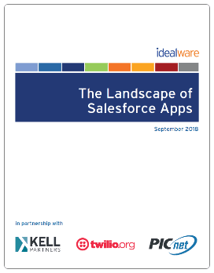 Are you using apps to extend the functionality of Salesforce?
Salesforce is a powerful CRM right out of the box—which, along with its discounted pricing, makes it a popular choice for nonprofits. Need more power or flexibility? On the Salesforce AppExchange, you can buy apps from third-party developers that meet a wide range of needs. But with more than 3,000 apps available, knowing which to choose can be daunting.
In this new update to our popular report, we help you better understand when to use apps and how to choose them and list some of the more popular apps for a variety of common nonprofit use cases. We also provide a directory of consultants with experience assisting nonprofits with their Salesforce implementations to make it easier for you find the right people to help you. Thanks to the generosity of our sponsors, KELL Partners, Twilio.org, and PICnet, it's all free to download—just sign up with the form.