Innovating Program Delivery: A Nonprofit Workbook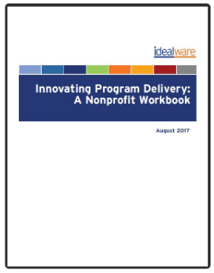 Most organizations face three big obstacles when trying to innovate: fear of the unknown, time and budget pressure, and the trappings of conventional thought. But research shows nonprofits that are good at identifying their needs, keeping up with new technological developments, and creating time and space for innovation are more likely to be successful.
This guide will help you identify your organization's needs and match them to the technology that can help you meet them. It will also look at what it takes to be successful when developing a new idea and implementing new technology. The worksheets will guide you past your obstacles and help you jumpstart your innovation potential. And thanks to the generosity of our sponsors, Salesforce.org and 501partners, it's free. Just register using the form to download your copy.