Implementing a New Website: Planning Your Approach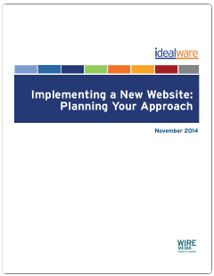 Whether you're updating an existing website or building a new one from scratch, you're looking at a major project with a lot of moving pieces to consider. We created this workbook to guide your organization through the website redesign process, better prepare you to work with the web developer you've chosen, and help you plan your web content for launch. You'll decide what content can move from your existing site and what will need to be created—including who is responsible for it—and define a plan to keep that content up-to-date beyond implementation. Finally, you'll define user profiles for the different people and groups who need access to your site, and determine what else needs to be done before launch.
Thanks to our sponsors, Wire Media and Balance Interactive, and to NetSuite—which contributed funding for a number of Idealware workbooks, including this one—it's absolutely free to download. Just sign up using the form.