Nonprofit Accounting: Selecting Financial Management Software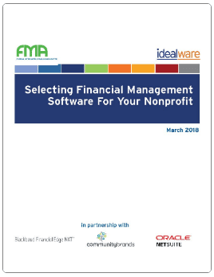 Your financial system is a key part of your organization's information ecosystem. It needs to work well with the other systems you use, such as your donor database, your client records, and your staff and volunteer management systems. But what if your current financial system doesn't give you the data you need? We designed this report to give you a landscape view of the current market of accounting and financial management systems and to help you better identify your own needs, which systems can best meet them, and how to decide among those that do.
Thanks to our sponsors, we're able to offer this report for free. Just register with the form to download it.
NOTE: Neither sponsors nor vendors have any input into the report. Vendors of systems included in the report do not pay for inclusion, and our research team is not made aware of vendor or sponsors prior to publication.