A Few Good Online Survey Tools for Nonprofits

A well-crafted online survey can teach you a lot about your constituents and how your nonprofit's work is helping your community. Surveys are also useful for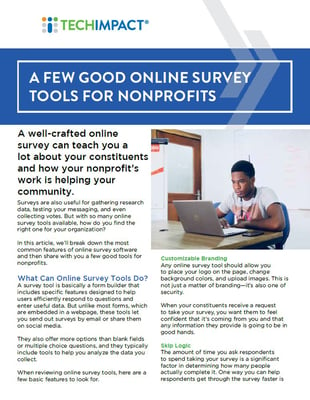 gathering research data, testing your messaging, and even collecting votes. But with so many online survey tools available, how do you find the right one for you?
In this article, we'll break down the most common features of online survey software and then compare and contrast some of the tools most commonly used by nonprofits to help you decide which will best meet your needs and budget.
Want to learn more about conducting surveys? Download our companion article, What Nonprofits Can Learn By Collecting Survey Data.