Disaster Recovery: Planning Ahead for the Unthinkable

Think about all of your nonprofit's assets, from the computers and servers around your office to the data you store on them. What would you do if something bad happened to them?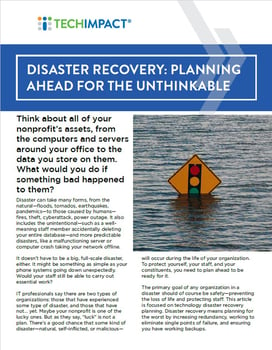 Disaster can take many forms, from the natural (flood, fire, pandemic) to those caused by humans (theft, cyberattack). Disaster recovery means planning for the worst by increasing redundancy, working to eliminate single points of failure, and ensuring you have working backups.
This free article provides an overview of how to go about creating a plan to get your nonprofit back up and running in the event of the unthinkable.