Digital Skillsets: An Imperative for Today's Nonprofit Leaders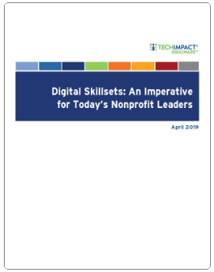 Digital skillsets will be essential to the success of tomorrow's leaders, tomorrow's organizations, and tomorrow's social sector—and that's just as true for today's. What are the digital skills nonprofit executives need? How does the acquisition of these skills affect how their organizations operate and deliver on their missions? How can leaders acquire these skillsets, and what are the challenges and barriers they face?
We spoke to a number of leaders with expertise in technology, human resources, and related fields to try to answer those questions. Our hope is that this knowledge will inspire nonprofit executives to seek out avenues to build their skills and inspire funders to recognize the vital role strategic technology initiatives play in transforming the way organizations work. Thanks to the generosity of our sponsors, Neon One, AccuFund, and Salsa, it's free to download. Just complete the form.