Landscape of Digital Marketing Tools for Nonprofits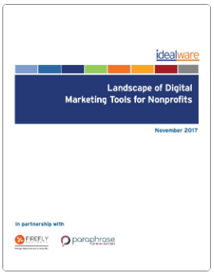 Technology has revolutionized marketing. New tools can help you better connect with the people who use your services and support your mission and causes, and help you learn more about their interests so that you can better meet their needs. But digital marketing is not a silver bullet—it's a many-headed beast that's difficult to tame.
We created this report to help you understand the multiple facets of digital marketing of interest to nonprofits and identify a logical, cost-effective path forward for your organization. We'll cover individual marketing topics and communication channels and tools and share best practices and recommendations from nonprofit marketing experts to help you make the most out of your efforts and become a more sophisticated nonprofit marketer.
Thanks to our sponsors, Firefly Partners and Paraphrase Communications, it's absolutely free to download. Just sign up with the form on the right and click the DOWNLOAD link that appears.