Becoming a Data-Informed Organization: How to Assess Your Nonprofit's Data Maturity and Create a Culture of Continuous Improvement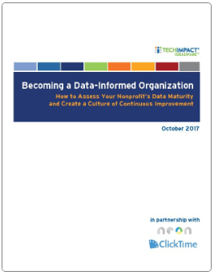 What is a data-informed organization? At its most basic, it's one that collects and tracks information about constituents. The ideal is to incorporate data as part of the culture so that it becomes second-nature to collect and act on it. The polar opposite is to not collect or track any information at all, which leads to uninformed decision-making. An organization's data maturity is measured on a progression, or spectrum, and most fall somewhere in the middle.
This report defines five stages of data maturity and identifies the factors that comprise them. It also includes a brief self-assessment to help you determine the status of your own data efforts, which is the first step toward advancing. For each stage, we'll tell you about the actions you can take to progress and identify possible barriers to success. Acknowledging what is keeping you from moving forward is a key step toward improving your use of data.
Thanks to the generosity of our sponsors, Neon CRM and ClickTime, this report is absolutely free to download. Register using the form on the right to get started.