Data Quality Best Practices for Nonprofits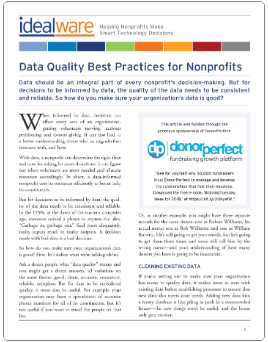 Data should be an integral part of every nonprofit's decision-making. But for decisions to be informed by data, the quality of the data needs to be consistent and reliable. What does good data look like, and how do you make sure your organization's data fits the bill?
We asked a number of experts about the biggest challenges nonprofits face when it comes to their data, and about their best practices, tips, and techniques for good data hygiene. In this article, we share what we learned and offer a path forward to better data-driven decision-making for your organization. Thanks to the generosity of our sponsor, DonorPerfect, it's free to download. Just complete the form.