Consumers Guide to Volunteer Management Systems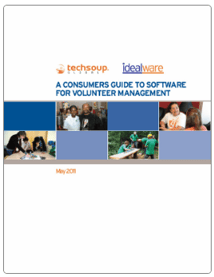 Volunteer-based organizations have to keep track of a lot of data—for example, contact info, schedules, time sheets and job sites—and the right software can help, freeing time for managing volunteers. There are a number of products out there to help, but it's surprisingly hard to find information about them. This report is geared to remedy that!
Working in partnership with TechSoup, we designed it to serve as an introduction to volunteer management software: what's out there, what to expect and how the different solutions compare. It covers the basic features and functions that might be desirable in a volunteer management package, and then discusses the pros and cons of standalone volunteer management systems vs. systems that track volunteers alongside donors or other constituents. Finally, it compares the strengths and weaknesses of three standalone volunteer management systems and the three consolidated constituent management systems — and then provided a bit of information to put another 21 systems in context.
Whether you're upgrading your existing system or just starting out, use this report to guide you.
Thanks to TechSoup for their financial support of this report.