Consumers Guide to Open Source Content Management Systems for Nonprofits: Comparing WordPress, Drupal, and Plone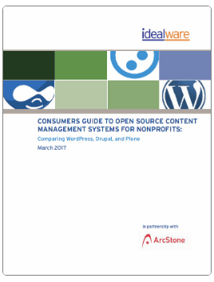 Creating a website can take a lot of time, money, and technical expertise. Once it is built, you need to keep it current. A good Content Management System (CMS) can help with all those functions, making it an essential tool for nonprofits who value their web presence. But how do you choose the right one for your needs?
In this update to our popular report, we look at three open source Content Management Systems commonly used by nonprofits: WordPress, Drupal, and Plone. We've done our best to use language that's relatively easy for someone with a non-technical background to understand—but not so basic that it won't be of value for the technically savvy—and to provide details about the important features and useful differences between the systems.
Whether you're looking to replace an existing CMS or implementing one for the first time, if you're a small- to mid-sized organization, this report is the best place to start your selection process. And thanks to the generosity of our sponsors, ArcStone, EveryAction, and FivePaths, it's completely free to download. Just fill out the form on the right and click "download" when the link appears.