Case Management Systems for Nonprofits:
A Briefing Paper for Foundations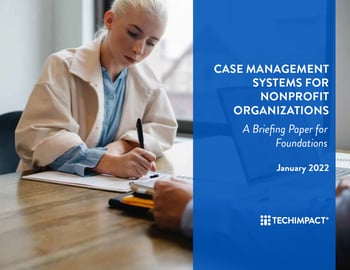 This high-level summary of our Consumers Guide to Case Management Systems is designed to educate funders about the technology available to the nonprofits they support, what it costs, and what's realistic to expect from grantees in terms of tracking and reporting capability.
Funders need to be familiar with the process grantees should be undertaking to choose and implement case management systems, and the levels of funding required to succeed at that process. More importantly, they need to understand that case management technology is intricately linked to program effectiveness and impact evaluation—we've included suggestions for how they can act on our research to help grantees.
Please share this free resource with your program officers or colleagues in the philanthropic space, or download the complete Consumers Guide for detailed system comparisons and more information.
Download the Case Management Briefing Paper for Foundations.

Built on the Microsoft platform, akoyaGO offers an out-of-the-box software solution customizable to accommodate the unique needs of any foundation. Designed to easily administer grants and scholarships, enhance donor relationships, and improve productivity with fund accounting, this cloud-based platform streamlines day-to-day operations through automation while providing access, anytime and anywhere.
Click here for a helpful guide in researching the ideal grant management software for your foundation.