Case Management System Market Trends 2018: An Interim Update to the Consumers Guide to Case Management Systems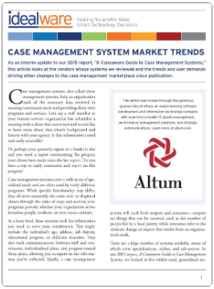 Case management systems cover a wide array of specialized needs, and are often used by vastly different programs. While specific functionality may differ, they all serve essentially the same role: to shepherd clients through the series of steps and services your programs provide. In 2015, we published A Consumers Guide to Case Management Systems, which looked at five widely-used, generalized systems and compared them against more than 100 critical requirements for nonprofits.
A lot can change in three years. In this brand new article, we take a high-level look at those changes and at the trends driving the evolution of the marketplace to help keep you informed as an interim update between full editions of the Consumers Guide.
Thanks to the generosity of our sponsors, Altum, it's absolutely free to download. Just register with the form on the right.