How Can Your Nonprofit Use Texting for Program Delivery? A Workbook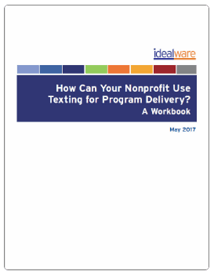 For many nonprofits, incorporating text messaging into program delivery remains a mystery. What programs is it appropriate for? How much does it cost? Are there privacy concerns? What's the best way to get started? We created this workbook to help you answer those questions as a companion piece to our free report, Text Messaging for Nonprofit Program Delivery. This series of worksheets will help you:
Identify a particular problem or issue that could be solved using text messaging and assemble a team from your organization to help you solve the problem.
Learn different ways other nonprofits have already used texting to improve their programs and then brainstorm how to use them to address your own organization's issue.
Identify whether or not you'll need specialized software to support your organization's texting efforts and develop strategies for collecting a list of supporters who you can text.
Define a rough set of guidelines and policies to make sure staff members are using text messaging appropriately.
Like the report, the workbook is free to download. Just register using the form to get started.