Automation For Nonprofits: What is it, How Does it Work,
and How Can it Help Me?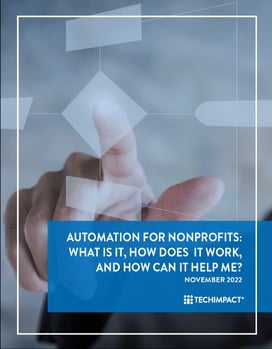 Automation refers to any technology that minimizes the need for human input. When applied to menial tasks that take a lot of time and energy, it can free up staff time for more critical work.
The technology that powers automation is more affordable and accessible than ever. Some form of it is within reach of every nonprofit. In fact, you're likely already using some simple automations.
Download our free report to learn how to find easy automations and expand your impact by discovering new ideas for how to automate routine tasks, reporting requirements, and information gathering and analysis.


Want to learn more about this topic? Check out our free recorded webinar, An Introduction to Automation.
Sponsored by: