A Few Good Tools for e-Advocacy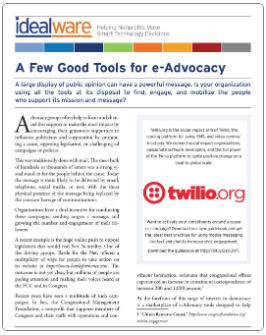 An impartial guide to the best tools to support your advocacy efforts.
A large display of public opinion can have a powerful message. And there's a whole marketplace full of tools to help channel your supporters' voices. But which is right for your organization? e-Advocacy tools deliver constituents' form letters, calls, emails, texts, and social media messages to appropriate legislative targets. Some also include a wide range of additional features to make these campaigns easier and more effective. Many also offer ways for users to share the actions they've taken with their own audiences, or to view the results of a campaign.
To update our popular article, A Few Good Tools for e-Advocacy, we talked to a number of experts and asked them about some of the tools most commonly used and recommended in the following categories:
Tools for Social Media Advocacy
Dedicated e-Advocacy Platforms
e-Advocacy Tools Built into CRMs
Thanks to the generosity of our sponsor, Twilio.org, we're able to provide this article for free.