Landscape of Integrated Software for Community Foundations



Moving away from detailed feature comparison, this all new 2022 edition of our popular guide focuses on how commonly used systems integrate and whether those integrations are user-friendly and effective in practical use.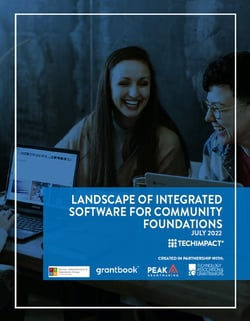 Through overviews and detailed profiles, we look at how popular software meets community foundations' needs in five functional areas:
• Business Intelligence and Reporting
• Donor Management/Donor Portals
• Financial Management/Accounting
• Grant and Application Management
• Relationship and Communication Management
We also cover system comparisons, pricing models, and selection criteria. Thanks to the generosity of our partners, this invaluable resource is free to download.
Created in Partnership With: