Affordable, effective, collaborative cloud-based software for nonprofits.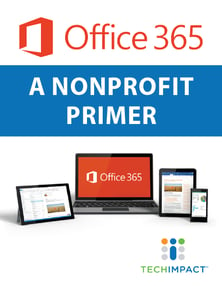 This book is based on our experience moving hundreds of nonprofits, and thousands of users, to Office 365. In it, we answer dozens of common questions and give you a sneak preview of Office 365 for Nonprofits.
You'll Learn:
How Office 365 hosted Exchange email can replace your onsite Exchange server
How SharePoint Online can replace your File Server
How Office 365 can help your staff collaborate.
How Microsoft's donation can save you thousands each year.
It is our hope that you will find this information valuable as you consider moving to Office 365.
To download your free copy, complete the form on the right.