Protect Your Nonprofit from Cyber Attacks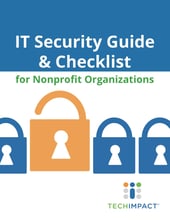 Your nonprofit is a target for cyber-attacks, but it doesn't have to be. The criminal world sees nonprofits as easy targets that lack resources and know-how to thwart attacks. You also have valuable information on donors, volunteers, and constituents that can be sold for up to $8 a record.
The good news is that you can do something about it.
Download the IT Security Guide & Checklist for Nonprofit Organizations and access actionable steps that will quickly make your nonprofit a much less attractive target. You'll get:
Staff training tips

Email protection methods

Data security best practices

Nonprofit IT security checklist
Empower your nonprofit with the knowledge and tools needed to protect your organization and your mission. Don't be a soft target.