Protect Your Non-profit from Rising Cyber Attacks
Your nonprofit organization collects and manages sensitive information every day.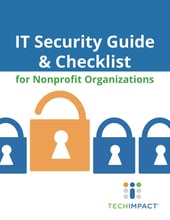 Nonprofits are powerful organizations. They make a big impact, often without big budgets or big staff rosters. They make a difference with the help of their donors, volunteers, and advocates.
But that also means they have a lot to protect. As we move into an internet-heavy world, it's your nonprofit's job to ensure that everyone you work with is protected from cyber crimes like hacks and data breaches.
If your IT security isn't up to par, you put your programs, donors, and employees at risk. You could be vulnerable to:
Data and systems loss
Theft of funds, personal data, and intellectual property
Fraud and embezzlement
Reputational harm and damage to your programs
Protecting your organization doesn't have to be difficult. Small changes make a big difference, and even organizations without dedicated IT staff can improve their security.
Tech Impact designed the IT Security Guide and Checklist specifically to help nonprofits get started. It has the information and tips you need to begin protecting your organization in house as well as options for getting expert help. Fill out the form to the right to download your free copy now.