Improve Security & Compliance with SecCheck
SecCheck is a low-cost, expert-guided security and compliance assessment that allows you to assess your nonprofit's needs and get actionable recommendations to help protect your organization and sensitive data. Unlike other online assessments, a technology advisor will assist with the assessment and create customized recommendations for your nonprofit.
This security and compliance assessment tool evaluates your organization's current cyber security and compliance maturity. You will receive a rating in seven different categories:
Application Security
Business Continuity
Cloud Security
Data Security
Identity Security
Policy
Infrastructure Security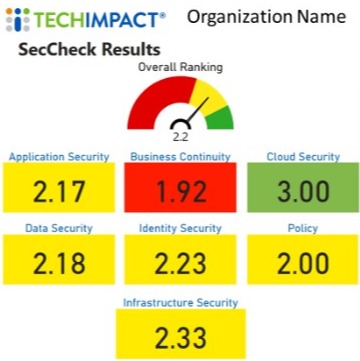 Evaluations are conducted through individual, live consultation sessions with nonprofit leadership and technology staff, usually lasting between 60 and 90 minutes. After the consultation session, the advisor will evaluate the information collected and generate a report that includes customized recommendations help you create a more secure technology environment.
The recommendations will include technology projects with estimated costs for hardware, software, and professional services for budgeting purposes.
Use the form to learn more about SecCheck and speak with a Tech Advisor.