National Development Council Ramps Up Compliance with Microsoft Office 365 and Azure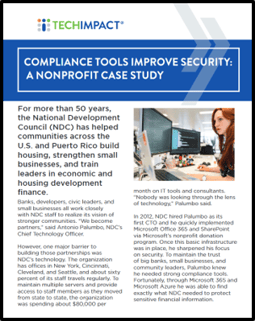 The National Development Council's (NDC) Chief Technology Officer moved NDC to the cloud in 2012 with Microsoft Office 365 and Microsoft Azure.
Since then, the organization has leveraged the compliance tools Microsoft offers, including single sign on, multifactor authentication, data loss prevention measures, and device management to name a few.
Read this case study to get a first-hand account of the process and results.
Fill out the form to receive Compliance Tools Improve Security: A Nonprofit Case Study