Pave the Way for a Smooth Project Implementation
There are several factors to consider when implementing a new software solution. If the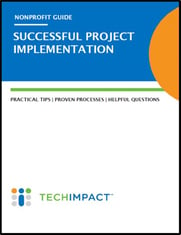 proper planning and risk mitigation steps aren't taken at the start of the project, it can be a bumpy road. At Tech Impact, we've learned what it takes to execute a successful project implementation. There are four major processes that should be part of all project implementation plans. This guide will:
Review each of the four processes
Detail key factors to consider during each process
Provide a list of important questions to ask both internally and to your implementation partner before you start an implementation project
Fill out the form to download our Nonprofit Guide to Successful Project Implementations.