We've Done the Research to Help You Select the Best Cloud Storage Solution for Your

Nonprofit
Tech Impact's Data & Strategy team has done extensive research on and worked with most of today's leading cloud storage solutions. As a result of our research and experience, we've created this solution-neutral comparison guide detailing the features and benefits of four of the top cloud storage solutions for nonprofits.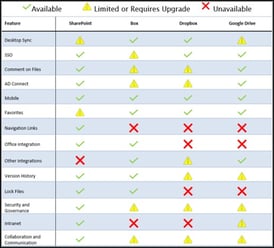 We hope that this guide will reduce the amount of time you need to spend researching each system, and will help you select the best option to meet the needs of your nonprofit.
This guide includes:
Detailed comparison of 15 key product features
Analysis on main advantages and disadvantages of each system
Recommendations for best case use
Pricing overview
Fill out the form to download our Cloud Storage Comparison for Nonprofits guide.